Photo credit: Joshua McCoy — Ole Miss Athletics
In front of his home crowd, Ole Miss point guard Breein Tyree dropped a career-high 40-points while leading the Rebels to a blowout 83-58 win over Mississippi State tonight. SportsTalk Mississippi's beat reporters Brian Scott Rippee and Brian Hadad were both in attendance at the Pavilion, and below you can check out their coverage of the game from a Rebel and a Bulldog perspective.
Tyree goes for 40 as Ole Miss wins third straight in 83-58 rout of Mississippi State

Story by SportsTalk Mississippi Ole Miss Beat Reporter Brian Scott Rippee
OXFORD — Twenty-five days ago, Breein Tyree sat in front of a microphone inside The Pavilion media room and battled his emotions. The senior guard struggled to articulate the pain of his senior season slipping away.
Ole Miss had lost its fifth straight after blowing a double-digit second-half lead to LSU that night. Tyree poured in a career-high 36 points and was 9-9 from the free-throw line. The rest of his team was 0-10 from the stripe in a game that epitomized the team's overarching flaw — a lack of scoring behind Tyree — amidst a losing streak that spanned six games. The Rebels were drowning amidst lofty preseason expectations, and the thought of his final collegiate season going awry weighed on him.
"This is not how I want to go out," Tyree exclaimed. "This is not how I want Rebel Nation to remember me.. I am just going to keep working and keep going until the wheels fall off."
Nearly a month later, he sat in the same place and flashed a grin when asked if he knew what number he was chasing in the final minutes of an 83-58 thrashing of Mississippi State on Tuesday night. Tyree scored 40 points, 27 of which came in the second half and reset his career-high for the third time in three weeks as the Rebels notched their third straight win.
"I have been scoring at a high rate lately," Tyree said. "That second half, I was pretty locked in."
The senior All-SEC guard scored 20 of the team's final 25 points and outscored Mississippi State by himself (27-24) in the final 20 minutes.
Ole Miss obliterated Mississippi State over the final 28 minutes of this contest. Kermit Davis' 1-3-1 zone bothered Ben Howland's group. It shaved seconds off of possessions and made it more difficult for the Bulldogs to get the basketball on the interior to SEC Player of the Year candidate Reggie Perry, who still managed to finish with 24 points and eight rebounds. The Rebels deployed the zone midway through the first half and rode it the rest of the way. Davis has been running that concept for nearly two decades. It flustered Mississippi State's guards and helped neutralize Perry before he possessed the basketball.
"We kept a really good offensive team off-balance," Davis said.
The first 11 minutes of this one had Ole Miss teetering on the brink of disaster. Tyree picked up two fouls in less than three minutes and was confined to the bench. Mississippi State was hammering Ole Miss on the glass and the Bulldogs led by as many as 13 points at 31-18. This group isn't equipped to withstand long stretches with Tyree on the bench and it appeared as if Mississippi State was going to overwhelm with its size and put the game away early on.
Enter Khadim Sy.
The much-maligned center scored 18 points and snared eight rebounds. It was his best game in an Ole Miss uniform and kept the Rebels in the game when things got dicey midway through the first half. Sy scored 12 of his 14 first-half points in about an eight-minute stretch and helped Ole Miss close the half on a 15-3 run that altered the trajectory of this game and shaved the margin to 34-33.
"The critical part of that first half was Khadim," Davis said. "He kept us arm's length. He kept at eight or 10 when it could have gotten out there..He made some really nice post moves with someone on his back."
The 1-3-1 continued to net empty Bulldog possessions. State was 7-23 from the field in the second half. That paved the way for Tyree to dominate on the offensive end as the lead swelled to double digits. The 40 points came on 13-22 shooting. He was 9-15 in the final 20 minutes and was serenaded with an ovation when he exited the game in the final minute. It was a jovial moment in a year of frustration.
"Man, Breein Tyree the last couple of weeks has been as good as any guard in college basketball," Davis said. "I have never really had a guy like that, one that just goes and gets 40. Not at all three levels like that. He scored at every level, setback step-back threes, driving to the rim. That's as good as I have ever seen."
Tyree met with Kermit Davis before a Monday practice 15 days ago. That meeting covered a wide variety of topics and lasted over 45 minutes. Davis encouraged Tyree to forge onward, forget about a dreadful month of January that torpedoed postseason hopes, but instead focus on winning the month of February and enjoying the remainder of the season. There are a finite number of days left in his career. That mantra has seemingly freed up not only Tyree, but the entire team. Ole Miss is 3-0 since adopting that mindset.
"We still want to play in the postseason," Tyree said. "A lot of people are counting us out and we are the only ones counting us in. We just have to continue to play hard."
This victory was the third straight top-100 NET win, a mark the program hasn't hit since the 2013 season in which it made the NCAA Tournament (RPI was used as the metric then). Ole Miss is now 13-11 (4-7). It has a long way to climb before it is realistically back on any sort of postseason radar. But a trip to Kentucky awaits on Saturday. If the Rebels were able to pull off a shocker, then the conversation would begin to change. It's a tall and (highly) unlikely task, but the team is playing its best brand of ball in the month of February.
Tyree grinned and acknowledged that he knew he was chasing 40 points in the game's final minutes. That's another career-high. He appears to be playing as freely as ever and is cherishing the final days of his collegiate career.
"Coming down to the end of my career here, I want to be remembered as one of the best guards to ever play here," Tyree said. "You have to end it right. I want to give the fans, my teammates and my parents something to cheer for."
Mississippi State's Tournament Hopes Hammered by Ole Miss 83-58

Story by SportsTalk Mississippi MSU Beat Reporter Brian Hadad
Mississippi State embarrassed by their in-state rivals
Mississippi State arrived in Oxford looking to keep some momentum going after winning 5 of their last 6 SEC games, but all the Bulldogs got was a smack directly to the mouth, as Ole Miss dominated from the closing moments of the first half all the way to the final whistle, grabbing a demoralizing 83-58 win over the Bulldogs. State led by as many as 13 in the first half only to see the Rebels chip that margin down to 1 at halftime. From there, Breein Tyree, the reigning SEC player of the week, delivered a performance for the ages, scoring 27 of his 40 points in the second half, outpacing the entire Bulldog team. State falls to 15-9, 6-4 in the SEC, and now face what feels like a must-win game Saturday at Arkansas.
TYREE DOMINATES THE DAWGS
40 PIECE FOR BREEIN TYREE pic.twitter.com/sNYl9LqCpC

— SEC Network (@SECNetwork) February 12, 2020
Mississippi State knew eliminating Breein Tyree was not likely, but the Bulldogs hoped to contain the SEC's leading scorer. Instead, Tyree torched Ben Howland's team for 40 points, 27 in the second half, as the Rebels blew the doors off of the Bulldogs. On the other end of the floor, Kermit Davis and his decision to run a 1-3-1 zone absolutely flummoxed the maroon and white, as State was forced to settle for perimeter shots they couldn't hit. MSU only put up 20 points in the paint, a season-low, while going a paltry 2-16 from three-point range. State was outplayed, outcoached, and outhustled by a suddenly resurgent Rebel squad.
NICK'S AWFUL NIGHT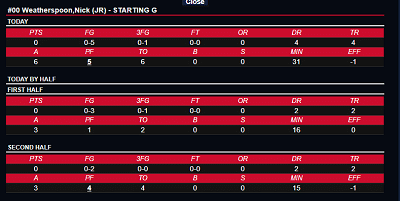 Mississippi State needed a big night on both ends from Nick Weatherspoon, instead, they got perhaps the worst performance of his career. The junior point guard scored zero points, had six turnovers, and a plus/minus rating of a seemingly impossible -36. Weatherspoon looked out of sorts throughout the game, and wasn't able to provide anything on either end of the court for his team. His play had been a big reason State had dug out from the 0-3 start to conference play, and MSU will need him to rebound quickly if they want to continue to have postseason hopes.
WHAT'S NEXT?
Hogs drop one in Knoxville. pic.twitter.com/KeT8kZPwCN

— Arkansas Razorbacks Basketball (@RazorbackMBB) February 12, 2020
It's a huge bubble battle in Fayetteville on Saturday, as the reeling Arkansas Razorbacks host Mississippi State in a game that will likely doom the loser to an NIT berth. Tip-off is set for noon, the Bulldogs aren't in must-win mode, but a loss would put their backs squarely against the wall.
The post Tyree's 40 leads Ole Miss to blowout win over Mississippi State appeared first on News Mississippi.